Agility Acquires BOLDplanning, the Leader in BC Planning Tools & Consulting for COOP, EOP & BCP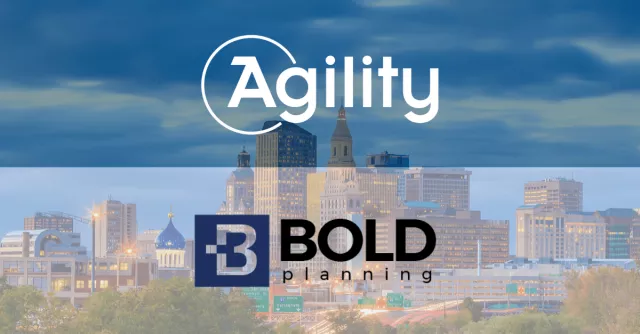 I am pleased to announce that Agility has acquired BOLDplanning, the leader in online software and consulting services for emergency operations planning (EOP), continuity of operations planning (COOP), business continuity planning (BCP), and hazard mitigation. Through this acquisition, Agility will more fully be able to address essential markets such as government, health care, and education.  
Public sector organizations face unique and pronounced business continuity needs and challenges due to both regulations and market structure. These organizations are highly regulated in terms of both plan maintenance as well as employee training on continuity and emergency planning procedures. 
The sector also sees increasing challenges due to natural disasters and the need for funding to mitigate the effects of such disasters; in 2020 alone, the U.S. saw 22 separate billion-dollar weather and climate disasters (NOAA). To that end, states, territories, federally recognized tribal governments, and the District of Columbia are now eligible for some of the $3.46 billion in hazard mitigation funds allocated by FEMA. To be eligible, applicants must have a FEMA-approved hazard mitigation plan in place that extends through the funding periods. Forming an in-depth hazard mitigation plan can be daunting but is more readily achievable with the help of certified professionals. 
We know that these challenges require a robust solution that includes automated and technology-enabled continuity planning services, mass communications and crisis management, and physical recovery services like backup generators. The public heavily relies on organizations in this sector to get through all types of disasters, and even minutes of downtime can have a severe and wide-reaching impact. 
By combining Agility's 33 years of disaster recovery services and business continuity expertise with BOLDplanning's public sector experience, top-tier consultants, and software, we are able to help essential service providers who face increasing regulatory challenges.   
BOLDplanning's credentialed, business continuity-certified experts will join the Agility team, bringing an established consulting services practice, which has specialized for the past 15 years in EOP and COOP consulting for the public sector. The team of BOLDplanning consultants will join Agility, bringing expertise in COOP, EOP, continuity of government (COG) planning, hazard mitigation planning (HMP), and homeland security exercise and evaluation program (HSEEP); with credentials in Certified Business Continuity Professional (CBCP), Certified Healthcare Emergency Professional (CHEP), Certified Healthcare Provider Continuity Professional (CHPCP), and Level I FEMA Professional Continuity Practitioner (PCP). BOLDplanning customers will keep the same points of contact they've worked with in the past.
The acquisition of BOLDplanning is Agility's fifth in just under three years, adding to our end-to-end suite of business continuity products and services that private and public sector customers can access under one umbrella. Our previous acquisitions include: 
Our existing product suite includes:
We are proud to continue in our mission to reduce the impact of business interruptions on organizations and the communities they serve, adapting to an ever-changing risk management and business continuity landscape. We're pleased to provide flexible business continuity solutions, allowing organizations to manage their entire business continuity program from one central platform, Agility Central, with the industry's most comprehensive, yet simple, business continuity solution to help organizations plan, train, test, alert, and recover – all in one. 
Jon Bahl, CEO, Agility