Agility Recovery Acquires Rentsys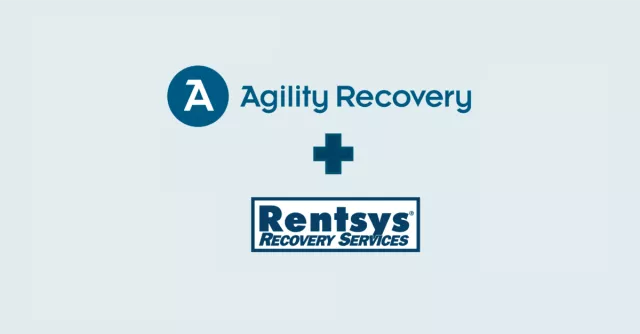 BIG ANNOUNCEMENT: AGILITY RECOVERY ACQUIRES THE WORKPLACE RECOVERY BUSINESS UNIT OF RENTSYS RECOVERY SERVICES
A Great Moment for Customers
Today marks yet another milestone in the nearly 30-year history of our company. We are thrilled to announce Agility Recovery has acquired the assets and customer base of Rentsys Recovery Services.
Rentsys, based in College Station, Texas, served customers from a wide range of industries by providing workplace recovery solutions with both mobile recovery units and hot sites.
This is an exciting moment for existing customers from both organizations as we join together under Agility Recovery to offer enhanced and streamlined services. This acquisition will expand the opportunities available to both customer bases and build flexibility during recoveries, a critical element for ensuring businesses restore operations quickly.
Jon Bahl, CEO of Agility Recovery, explained, "The acquisition of Rentsys' assets, capabilities and expertise will enable enhanced services for customers from both organizations and allow us to better serve our clients in their time of need."
If you are joining us as a former customer of Rentsys, welcome! You have placed tremendous trust in Rentsys over the years and we welcome the opportunity to serve you in new and meaningful ways.
The Premier Industry Provider
The acquisition will also allow us to present a newly consolidated and compelling value to businesses around the continent.
Walt Thomasson, former Managing Director of Rentsys, will join the Senior Leadership Team at Agility Recovery and added, "I'm excited to join the combined team and go to market with such a comprehensive offering. Bringing together the collective resources and experience of these two outstanding firms under the Agility Recovery brand represents a truly pivotal moment for the industry."
No longer competitors, Agility Recovery and Rentsys are prepared to use their combined assets and experience to lead the finest business continuity and recovery service ever available to organizations of all sizes and in all industries.