Agility's Response to Hurricane Ian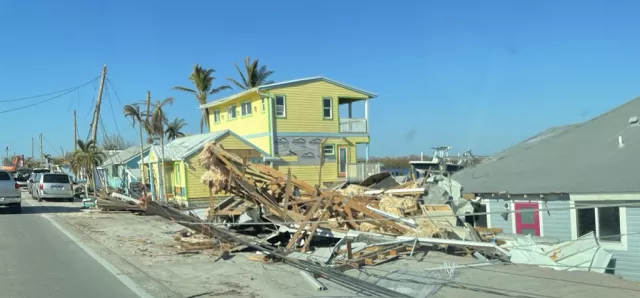 The Atlantic hurricane season started quietly but roared in with Hurricane Ian at the end of September.
The Category 4 storm tore through Florida, South Carolina, and North Carolina, affecting nearly 400 Agility customers. Hurricane Ian was the deadliest hurricane to strike the state of Florida since the 1935 Labor Day Hurricane, taking the lives of more than 100 people, leaving 2.5 million homes and businesses without power, and causing more than $50 billion in damage.
About one week in advance of landfall, the Agility Recovery Services team begin proactively providing outreach to both customers and vendors in Florida. Ultimately, about 75% of the recoveries we provided were related to power; Agility also deployed two mobile workspace recovery centers (MRCs) on the heavily damaged Pine and Sanibel Islands.
While mobile recoveries are common after hurricanes, these deployments had a unique twist. To get to Sanibel Island, Agility had to coordinate with Lee County to load the MRC onto a barge to access the recovery site, as the Sanibel Causeway between the mainland and the island sustained too much damage to be drivable.
The barge was so large that it could hold 15,000 tons and required additional sand to be poured to make the ground and gangplank level for the MRC. This was the first time Agility had transported a recovery center via barge during a recovery. The customer was impressed and comforted by having the Agility team on site to coordinate and manage the setup.
Over the course of the storm and recovery, Agility not only leveraged current solutions but also created a fresh resource for customers: ReadyTank+. This solution helped provide customers' employees with safe access to gasoline to fuel their cars and continue operations. Deploying ReadyTank+ included setting up a security fence around the fuel pod and light towers to keep the area well lit and safe. ReadyTank+ is just one more example of how we strive to identify what our customers truly need and think outside the box to create solutions to solve those unique recovery challenges.
I personally want to thank our recovery services operations teams. While the logistics, operations, technical services, and test and declare teams worked around the clock to recover our customers, they also continued to manage full caseloads of tests without skipping a beat. I'm extremely honored to call these individuals part of the Agility team. Thank you.
Though this storm was a harsh reminder of the threat natural disasters pose to all of us, it was also an inspiring example of the power of resilience. We are proud to continue in our mission to help businesses and their communities recover from any interruption.
Regards,
Jon Bahl
CEO, Agility Recovery