Business Lessons Learned from COVID-19 Preparedness and Response, Plus 4 Emerging Trends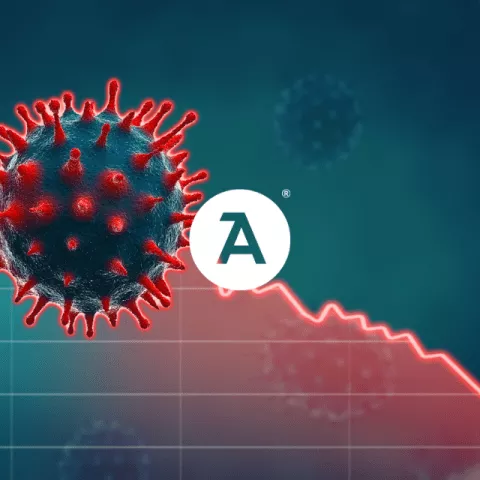 Through Agility's unique perspective of actively working with thousands of business locations simultaneously on their response to COVID-19, we've collected the most common lessons learned to help more businesses emerge with an even stronger response plan and business continuity process. As the COVID-19 outbreak began to spread globally, businesses of all sizes and industries turned to their business continuity and pandemic response plans. COVID-19 has been the single most widespread business interruption we've experienced in more than three decades.
In our experience, many organizations have implemented individual pandemic response plans simply because pandemics are a risk that can impact any business and can perhaps be the most long-lasting and devastating. That being said, we typically don't see individual plans for every type of business interruption. This allows a more agile business continuity approach to the disruption, no matter what the source of interruption. For our customers, every business is strongly encouraged to do a live test of their plan, and it gives them a chance to make amendments to their current and future approach. Many customers have asked us to help them evaluate how they may have planned more effectively and can incorporate their lessons learned into current strategies and future planning.  
Businesses that planned ahead were able to engage a quick response and meet their Recovery Time Objectives (RTO). We saw our customer activity rise weeks before confirmed cases began to escalate across North America, which means businesses who had tested and prepared their plan were able to engage their response and recovery plan long before the nation was in crisis mode. The businesses that planned ahead were able to focus on their people first to ensure they were safe and able to continue working as best as possible. This meant people retained their jobs and a safe work environment during unprecedented uncertainty around the world. 
Agility Recovery experienced record high activity fulfilling customer's business continuity needs including everything from providing technology equipment and alternate office space for social distancing, to implementing emergency notification software. Throughout this process, we have observed trends in preparedness and response strategies as well as the challenges that came into play as companies focused on protecting employees and business operations. 
Trend #1: People First Strategy for Business Continuity
In early February, we observed rising interest in our pandemic content on our website. At this time, COVID-19 was still in the early stages of rising cases in North America. We were able to track the market behavior first through increased website inquiries, and ultimately through businesses utilizing our business continuity platform and services to help manage through the pandemic. The first trend we noticed was that businesses were concerned about their employee population first.  Businesses focused on key questions such as:
How will we ensure our employees are safe and healthy? 
How will we communicate with our employees in a distributed environment? 
How will we ensure employees have the necessary equipment they need to work and stay productive? 
How will we make sure they know what to do next, and keep the communication flowing? 
What aspects of the business require face-to-face customer interaction and how do we keep customers AND employees safe? 
Businesses who were prepared, and planned well were able to deploy technology and other resources to help minimize the disruption to their business, and activated their BC plan well ahead of the state or federal recommendations, giving them a distinct competitive advantage versus businesses who were caught flat-footed and possibly left scrambling for resources or over-paying for last minute decisions. 
These market behaviors toward a people first strategy were particularly fascinating for our organization because at the end of 2019, when we had revealed our Modern Business Continuity Model. The model is Agility's 30-year perspective combines the experience of helping thousands of businesses with their business continuity preparedness and planning. It is based on thousands of customer conversations and interviews, observations and research. The most profound change we've observed in recent years is that business interruptions are happening with increased frequency, increased magnitude, and with longer term disruptions. The guiding principle in the model is that businesses who put their people first are the businesses who win. Smart businesses are first focusing on communicating with and training their employees — taking care of their people first – before they move on to any further steps in the Modern Business Continuity Model. The business response to COVID-19 reinforced this premise in a very widespread and global way. While none of us could have predicted a global impact of this magnitude, we had predicted the growing business continuity awareness around putting employees first. If you'd like to explore the model within your organization and where your business continuity process falls within the model, here's a peek into the model. We encourage organizations to review this model, using it as a framework to think about their own business continuity process.
Trend #2: Increased Usage of Emergency Notification Systems for Employee Communication
Another key trend emerging in the past 60 days was the immediate and 10x uptick in using an emergency notification system to communicate with employees. With the potential for employees working in physically distributed settings, businesses have put a new premium on being able to quickly communicate with their employee base in a bi-directional way on any device. Email inboxes get crowded, messages get lost in chat, and work from home employees or essential field employees are easiest to reach on their mobile devices. Businesses have had to adapt their communication style to meet employees where they are, to help keep the cultural connections that come with a shared office space. 
During the pandemic rise, businesses came up with creative ways to use their notification system beyond the traditional use case of time sensitive alerts. The value of a fully native mobile app for emergency notifications became increasingly important for businesses to reach employees around the globe, on any device. Using two-way messaging with location specific instructions, an engineering firm in Omaha, NE with 10,000 employees across 225 offices in 50 states and 60 countries, used the Preparis app to quickly notify employees with location-specific instructions for essential employees. They used geo-fencing to easily target the message by very specific combinations of groups, departments and location, setting up a system to receive, respond and track 227 different message variants. This was all tested and rolled out within a 48-hour time period. 
Trend #3: More Companies Using a Work from Home Strategy, If They're Able 
As social distancing and stay-at-home orders spread throughout the U.S., working from home became a common solution for businesses and employees capable of doing so.  Yet many businesses struggled with the ability to overcome the challenges which arose from trying to immediately transition their entire workforce into a work from home environment.
While it may sound plausible or even enticing from a cost standpoint to use this as a long-term strategy, companies are experiencing very real challenges with working from home. This is the primary reason why most businesses still maintain a physical location where employees are allowed to collaborate, congregate, commune with each other, and contribute to the company culture. For many industries such as banking, credit unions, healthcare, transportation, manufacturing and other industries, working from home is simply not an option. For companies with the flexibility to create a work from home situation, there were initial challenges getting employees properly outfitted to work from home. After a few weeks, when the initial honeymoon phase passed, employee productivity and culture degradation became obvious concerns for businesses. In addition, there were hidden challenges that emerged such as the need for increased workforce communication, proper technology distribution processes, and IT-related security concerns around video conferencing or general cybersecurity. While using a work from home strategy can be a good solution for short term business recovery, it is important to remember interruptions and disasters require flexibility and alternative solutions and implementing only one response strategy is not feasible in the long term. We are continuing to watch this trend and offer creative solutions to help businesses manage through this.
Trend #4: Physical Distancing as a Workplace Requirement 
Recommendations to slow the spread of the virus started with physical distancing protocols. Many employees were able to work from home, but many were declared essential and continued to go to the workplace. This presented a new challenge to businesses to implement workplace spacing and alternative office space. Following are some creative solutions that were implemented to help businesses manage through their pandemic response: 
Provide temporary office space and equipment for their team until they could return to their building, when the primary building was under quarantine and they were not allowed in the multi-tenant building.  
Many companies have created mobile staging environments, such as creating mobile recovery center or tent-based testing centers as a pre-staging area, to allow for temperature checks or rapid tests before allowing people back into fixed buildings such as day cares, manufacturing facilities, employer buildings, or medical facilities. Can be used for patient overflow, pre-testing stations before entering the main building, or distanced workplace settings for administrative staff.  
Check in with employees in a distributed environment using emergency notification software to help make sure employees are safe, have the equipment they need, with messages fully customizable by team, group, department and location. 
Set up mobile workspace to help with equipment distribution, HR command centers, or overflow spaces to accommodate physical distancing practices. 
Some businesses had technology equipment needs such as phone headsets, monitors, laptops, workstations, ranging to more robust needs such as setting up drive up facilities, equipment distribution centers, and check in or HR command center locations. 
Looking Forward
As businesses prepare to implement a phased approach to physical distancing and a return to the new normal, several considerations come to mind. Here are some general guidelines we recommend any business consider:
Understand Safer at Home Implications for Employers. Businesses are considering what 'safer at home' means for the longer term, and how to recapture the cultural benefits of working in shared space. Along with staggered office days, businesses are considering mobile workspace or tent solutions to allow their employee base to work in groups yet maintain safe distancing standards if their primary office space doesn't allow for proper distancing.
Develop Return to Work Process Plans. As more and more states and organizations are planning to reopen, it is critical that businesses take action to prepare the workplace and employees for a safe and successful return. We recommend developing a flexible Return to Work plan that encompasses processes for mitigating the spread of virus among employees.
Update Your Plan with Lessons Learned. It's impossible to plan for every potential scenario, and it's not even recommended. However, it is important to document lessons learned from real-world experience and bake them into your BC plan for future reference. Consider doing a retrospective with your team, then compile the data and knowledge into your updated plan. Remember to store your updated plan in an easy to access place for future reference.
Being proactive and having a holistic Business Continuity Plan in place has proven crucial to protecting people and operations during these unprecedented times. Most companies we work with are adjusting their plan to incorporate the lessons learned from the recent pandemic, and how to live with whatever the new normal turns out to be. This underscores the need for an agile approach to business continuity planning. It's impossible to create a plan for every possible scenario. Instead, we recommend businesses build a plan that is flexible and allows an opportunity to incorporate lessons learned from every incident, which helps businesses prepare for the next incident, no matter what the source of interruption.