COVID-19 State Safety Guidelines for Employers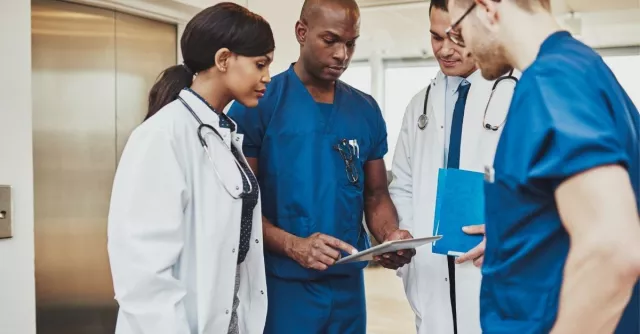 As an employer, you have limited control over regulating the exposure of your workforce to coronavirus. However, there are specific COVID-19 state safety guidelines for employers to follow. Besides, your organization can plan a speedy response to mitigate the consequences should this incident happen. 
Currently, the coronavirus is tearing across the United States—and around the world. Meanwhile, frontline workers are voicing their concerns over their safety during the pandemic.
Everyone must do their part to ensure the public health and keep workplaces safe. People are turning to the federal government looking for answers. Even though the federal government has been reluctant to dictate COVID state regulations, some guidelines are established in most states.
Organizations such as the Occupational Safety and Health Administration have offered limited guidance. For the most part, they've left rulemaking to state legislators. Now, legislators are tasked with creating and enforcing COVID-19 guidelines.
Below are some of the most recent information about COVID state safety guidelines for employers.
Areas With Comprehensive COVID State Safety Guidelines
So far, OSHA has resisted establishing concrete standards for COVID in the workplace. As a result, some states have issued executive orders regarding workplace protection rules.
As an example, Virginia was the first state to issue the Emergency Temporary Standard. The standard was the first of its kind to protect workers during the pandemic. Michigan and Oregon have followed suit and also issued emergency standards. Meanwhile, other states have issued guidelines. Furthermore, some cities have issued rules regarding the protection of workplace personnel.
In general, officials recommend that employees stay at least 6 feet away from others. This practice is called social distancing. Most regulations also require that employers provide face masks to employees. Workers should always wear masks when full social distancing isn't possible.
Many states' executive orders require employers to heed the following: 
Ensure physical distancing of at least six feet between employees and their coworkers and customers 

Provide face masks and implementing requirements to wear face coverings and PPE 

Improve ventilation 

Provide employees with regular access to hand-washing and soap 

Require deep cleaning after COVID cases are discovered in the workplace 
Notify employees, exposed individuals, and health departments when cases are found 

Train employees on best practices to prevent virus spread. 

Implement plans & procedures for a pandemic response, infection control, returning to work, etc 
So far, 14 states have issued comprehensive worker health and safety protection rules. These states include:
A new California law, AB 685, adds yet another set of requirements for California employers. AB 685, which takes effect on January 1, 2021, requires California employers to notify employees, employees of subcontractors at the worksite, and union representatives, if applicable, whenever the employer receives a "notice of potential exposure" to a "qualifying individual" at the worksite. An employer may also be required to notify the local public health agency.
Each of these regions provides more detail about specific COVID-19 regulations. You can find those details on their official state websites.
Workplace Management in the Absence of COVID State Regulations
Not all states have specific COVID-19 protection rules. In that case, employers generally follow federal recommendations. The Centers for Disease Control and Prevention (CDC) issues those recommendations.
In some instances, an employee tests positive for COVID-19. If so, the CDC recommends that employers send that individual home immediately.
Likewise, a worker may have symptoms of COVID-19. If so, they should notify their supervisor immediately and then go directly home. Employers should also close off areas used by an employee who was affected by COVID.
The CDC also recommends that workers remain home in isolation. Furthermore, suggests CDC, workers should not return to their jobs. They should stay in quarantine until they meet the criteria to end home isolation.
Affected workers should also seek guidance from a healthcare professional. A medical professional can advise workers when it's safe to return to their job.
What to Do When Employees Test Positive
An employee may test positive for COVID-19. If so, employers should immediately disinfect their workspace. Furthermore, employees should limit access to the area for 24 hours.
In some instances, however, it isn't practical to limit access to an employee's work area. In this case, employers should limit access to an exposed employee's work area until it is thoroughly cleaned and disinfected.
If possible, employers should open doors and windows to increase ventilation in the exposed area. Employers should also collect information about the employee's recent contact among coworkers.
This history should go as far back as two days before the onset of COVID-19 symptoms. This information will help employers to identify other staff members who may have been exposed to the coronavirus.
Steps for Employees After COVID-19 Confirmation
After testing positive for or showing symptoms of COVID-19, employees should practice isolation prudently. Workers should not leave their home for any reason other than to access medical care.
During isolation, workers should monitor their symptoms. If there are any signs of emergency health conditions, they should seek medical attention right away. For example, if an employee has trouble breathing, they should go to an emergency room immediately.
Workers should also stay away from other family members, if possible, during isolation. They should also use separate bathroom facilities if they're available. Isolated workers should make every effort to avoid contact with pets and family members. They should also avoid sharing personal household goods.
For example, employees with symptoms of COVID-19 should not share items such as towels, dishes, cups, and utensils. While in isolation at home, employees should also wear a mask whenever they're around other family members.
Planning for Uncertainty During COVID-19
Planning for business continuity is one of the most important things your organization can do during an emerging threat such as COVID-19. However, all businesses should have a continuity plan despite the spread of the coronavirus.
A contingency plan enables companies to remain resilient. It allows them to face any threat that might emerge. It involves preparing for continuity before, during, and after an event that can disrupt business. Any continuity plan should revolve around people. It's important to speak with employees early, often, and with compassion.
During these conversations, employers should raise awareness about continuity policies. Educating and training your teams should on continuity tools and resources can provide a lifeline in an emergency. Staff members must know they're available during emergencies. Employers should also create a safe workplace. In the context of COVID-19, this means frequent and thorough sanitizing.
Operational segmentation can be another tactical in such challenging times. This practice includes preparing for closing. It also includes planning for the eventual reopening of all physical locations.
Concerning the COVID19 pandemic, employers should identify the location of mission-critical activities. They should consider how they can transfer these activities to alternative sites. When planning for continuity, employers need to assess their supply chains. In this regard, it's helpful to evaluate third-party dependencies and single points of failure.
It's also critical to understand how these dependencies expose your business to risk. This understanding can help you to ensure continuity during the coronavirus pandemic.
A Back to Work Checklist for Employers
Many companies were forced to close their doors after the outbreak of COVID-19. However, a growing number of organizations are planning to return to the workplace. Naturally, employers want to get back to business as soon as possible. However, decision-makers may wish to consider a phased reopening.
For example, employers can stagger shift times. Alternatively, they can divide employees into groups that come in during specified days or weeks. As a leader, you are tasked to prepare for a safe and successful return to the job. Employers should add a few items to their checklist to assist in the transition back to the workplace.
Firstly, employers must develop a plan for returning to the workplace. In doing so, they should choose a workplace coordinator to respond to the COVID-19 event. When planning a phased reopening, management needs to determine which roles are the most essential to be returned to the office. Also, it's important to establish health and safety precautions. These precautions might include temperature screenings for returning employees.
It's also helpful to compare coronavirus management practices with your business partners. In doing so, you can ensure that your interests are always protected.
Finally, make sure that your staff members remain informed. Ensure that all team members sign up for timely alerts for COVID-19 from local, federal, and state health departments.
Managing the Unexpected
As each year passes, business interruptions become more common, especially in the age of COVID-19. During these kinds of emergencies, a notification system is critical. It's also important to train personnel in using the emergency notification system. Without training, the effectiveness of such a platform is limited.
Emergency Notification System to Keep Your Workforce Informed and Safe
An emergency notification system should serve as a crucial part of your preparedness program. Your crisis response team will have a proper set of actions for an emergency by following these suggestions. What's more, they can do so quickly and efficiently. Today's emergency alert system software goes beyond mass employee notifications. It takes extra steps to safeguard employee well-being, improve interdepartmental communication, and prevent economic loss.
Finally, key emergency management personnel must always have access to information. The company's leadership has to establish a communication system for crisis team members. It's also essential to develop emergency processes. The processes should help you keep your program up to date as threats emerge.
Communication is a two-way process. When in an emergency, a two-way response system streamlines the notification process, keeping you in touch with your crisis team and offering lifesaving advantages. Bi-directional messaging is one feature that can help stay connected with everyone on your team. For example, companies can request employees to confirm alert delivery by texting "c" to confirm or "y" for yes. With a two-way communication system, you can not only send push notifications, text, email, and voice messages from your computer, tablet or smartphone, but you can also receive an immediate response and see who is okay and who needs help and prioritize resources accordingly. 
Moreover, it's vital to have an integrated approach to crisis management. An integrated approach will ensure that your company is always prepared. In most instances, this means a system that's easy to implement and operate. Stakeholders should find that the system is easy to learn.
It's also essential to support two-way communications during a crisis. An established response system will streamline your notification process. It will also give your team lifesaving advantages during an emergency.
Your Partner in Business Continuity
Now you know more about COVID state safety guidelines and planning for business continuity. However, the right technology platform can make the process easier and more cost-effective.
Agility Recovery is an easy to use, flexible business continuity solution. Our platform helps businesses prepare for the unexpected and overcome interruptions. Set up a personalized presentation to learn how Agility is helping more than 4,000 businesses of all sizes across various industries plan, train, test, alert, and recover–all in one central platform.