Operations Report on Business Interruptions & Recoveries June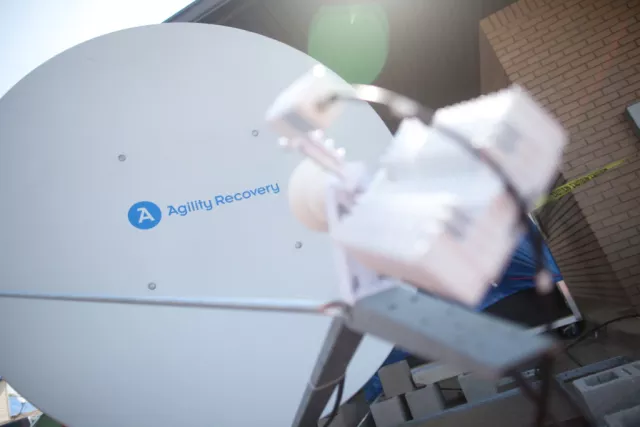 JUNE OPERATIONS REPORT ON BUSINESS INTERRUPTIONS
In June, we deployed resources to three of our customers experiencing business interruptions.  Seven additional customers placed us on standby after potential disruptions to critical business operations.
Our teams faced a few planned interruptions, some weather related events, and even a bat infestation. There's never a dull moment when it comes to supporting our customers and delivering on our promise. It truly isn't a question of IF, but WHEN. – Agility CIO, Operations
We also supported 12 ongoing customer recoveries and facilitated 30 customer test exercises throughout the month.
Our Team Performed Three Physical Recoveries 
Training Class Needs Laptops

When this state government organization has a new training class, they need temporary laptops. They use our QuickShip technology service to smoothly run training operations without the cost of owning, maintaining, and replacing extra IT equipment.

When they called us in June, we immediately shipped them 15 laptops with their computer image already loaded. Because we do not charge our customers a usage fee for our technology hardware, they paid only the shipping costs.

Retailer Loses Power

This national retailer received notice about 3 days in advance of some nearby utility work that would cause a 7-day outage to their location in Torrance, CA. The store could not afford to close and did not want to force hourly wage workers to forgo a week's paycheck.

They called our operations team to request an on-site generator to power the store and remain open with no disruption. Our team deployed a 300kW generator the evening prior to the planned outage, ensured proper connection, and scheduled multiple fuel drops throughout the event.

Insurance Firm Confronts Internet Loss

Our Fort Worth customer was in the process of moving offices when they learned they could not have internet service in the new building for two weeks. As with many commercial construction projects, there are inevitable delays. The firm needed connectivity to perform all of their critical business functions, especially their core service: verifying insurance coverage for commercial entities doing business together. A two-week interruption would have been catastrophic to their bottom line and their customers' business processes.

Their operations manager called our hotline and explained their needs. Our operations team shipped a switch and two LTE Cradlepoint devices the same day. They used the devices until their local internet was connected, saving their reputation and revenue.
We Saw These Other Unexpected Events
Colony of Bats Makes New Home in Insurance Agency

This local affiliate of an independent insurance agency recently discovered a bat infestation in their offices. Because bats create waste that causes contamination and disease, local authorities condemned the building until remediation could take place.

Rain Floods Credit Union

This regional credit union in southwestern Texas near the Rio Grande River Valley operates 13 branch offices and serves more than 45,000 members. Following the largest rainstorm in the area in 15 years, their Mission, Texas location was forced to close its doors.

 

The water damage to this location caused our customer to close and redirect members to an alternate branch nearby.

Water Shut Off at Insurance Firm

This Toronto non-profit covers dental providers with insurance and investment services. A massive water main break nearby left them with no water service, forcing them to consider shuttering the office of over 70 employees. Without water, no bathroom facilities would function properly.

Online Retailer Loses Power

This customer learned a critical lesson about the importance of planning during a power outage at their Seattle, Washington location. A local distribution facility for this global online retailer experienced multiple rolling brown and blackouts forcing them to halt operations. This facility housed large refrigeration units to allow for fresh food delivery in local markets.

Unfortunately, this location wasn't covered under our services and they had not submitted their specifications for temporary generator power. Luckily local power was restored in time to prevent any loss of inventory, but on-site leadership made sure to request coverage by us and completed their generator requirements worksheet for the next time temporary power is needed.
Additional Notable Alerts
Large Investment Firm – Warrendale, PA – Alert for replacement technology due to water damage caused by power fluctuations
National Retailer – Wilkes-Barre, PA – Alert for temporary power due to nearby tornado damage
Regional Credit Union – Perry Point, MD – Alert for mobile bank branch recovery due to a vehicle vs. building accident
Ongoing Business Recoveries from Prior Months
We also supported 12 other ongoing recoveries during the month of June including the following:
Regional Bank – Billings, MT – ReadyFinancial mobile bank branch to a building fire
Regional Credit Union – Dudley, MA – Planned relocation due to branch renovation
Regional Bank – Elberton, GA – Planned relocation due to branch renovation
Medical Equipment Supplier – Jacksonville, FL – Site-to-site VPN Cradlepoint device due to ISP outage
Global Logistics Firm – Atlanta, GA – Communications recovery due to an office relocation
Global Online Retailer – Seattle, WA – Temporary restrooms due to increased staffing
Private Country Club – Clifton, NJ – Planned relocation due to facility renovation
Local Credit Union – Gadsden, AL – Planned recovery due to new employee training
Regional Credit Union – St. Petersburg, FL – Planned recovery due to new branch construction
Regional Bank – Houston, TX – Planned long-term relocation due to closure of an existing location
Small Municipality – Cavendish, VT – Office space recovery due to a building fire at a garage facility
Small Municipality – Lafayette, OR – ReadySuite mobile recovery due to a building fire at one of their utility plant locations