An Inside Look at End-to-End Recovery for Banks and Credit Unions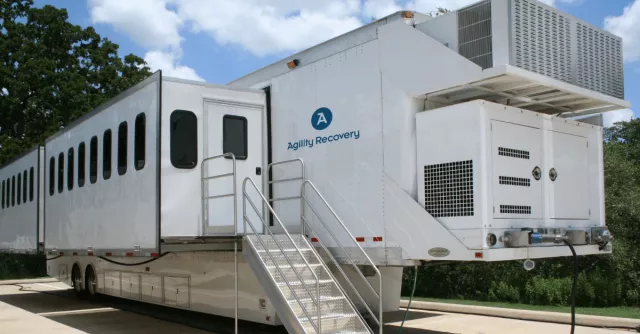 Facing a natural disaster that could impact your bank or credit union is daunting. Here's what you can expect when you work with Agility on a post-disaster recovery. 
Monday, October 3 
The National Weather Service has issued a statement that Tropical Storm X has the potential to turn into a hurricane, with landfall on the Louisiana coastline predicted in three days. Several states, including your bank's home of Louisiana, have been put under a hurricane watch. The storm is estimated to have 150 mph winds and may drop more than three feet of water upon landfall.
Due to the likelihood that the hurricane will affect at least one of your bank branch locations, you call Agility and put your company on alert status. 
Agility talks through costs and benefits of viable solutions should you need to declare and puts equipment and personnel on standby. 
Wednesday, October 5 
The National Weather Service predicts landfall as a category 4 or 5 hurricane within 36 hours, and Louisiana has been placed under a hurricane warning. The area is facing mandatory evacuations.  
Thursday, October 6 
The storm slowly tracks inland towards your branches, dropping more than six feet of water in some areas. The region is affected by severe flooding and damage, including downed power lines, trees blocking roads, and substantial property damage. Local law enforcement has ordered a shelter-in-place and established a curfew until Friday afternoon. 
Agility is keeping a close eye on the damage to your area and is prepared to deploy equipment as necessary. 
Friday, October 7 
You are granted access to your facility to assess whether you and your employees can return. There is substantial damage, including to computers, servers, telecommunications hardware, and the overall structural safety of your building. You estimate that your facility will not be operational for at least 2-3 months, or potentially even longer due to supply chain issues. 
You call Agility and have a conversation with your test and declare manager (TDM) and other members of the operations team to determine your needs based on the equipment and facility's current state. Once the team has vetted your set of needs, Agility provides your recovery quote and timeline for your backup solution. Agility then mobilizes resources to your site to begin your recovery. 
Saturday, October 8-Sunday, October 9 
Agility works through the weekend to make sure you and your branch are secure, while you check on the safety of your employees and community and ensure all permitting is ready for your mobile bank unit. Within 48 hours, Agility has deployed a mobile branch unit to your location. 
Tuesday, October 11 
Agility arrives on site with your mobile branch unit, and spends the next 24 hours setting up your remote bank branch, complete with: 
Drive-up window 
Private office space 
Waiting area 
Conference area 
Employee workstations 
Teller stations 
Compliant safe 
Night drop box 
Cash drawers 
Restrooms 
ADA accessibility 
Check-writing stand 
Alarm system 
Satellite and LTE communications 
Computers and printers 
Thursday, October 13 
Your bank, within the MRC, is now operational. You can assist customers, provide cash advances, and be an overall hub for the community as it recovers from the storm.  
Wednesday, February 22 
Your brick-and-mortar branch can return to operations after renovations and equipment replacements. Agility returns to pack up the equipment and remove it from your property – no need for you to lift a finger. 
Branch Resilience
Over the last 33+ years, Agility has partnered with banks and credit unions to understand your unique business continuity needs and provide tailored recovery services. Our goal is to meet your business challenges and deliver a quick, flexible, and cost-effective solution while keeping you audit ready. Reach out to us today for more information about our purpose-built solutions for the financial industry.