How to Prepare Your Business for Power Outage Impacts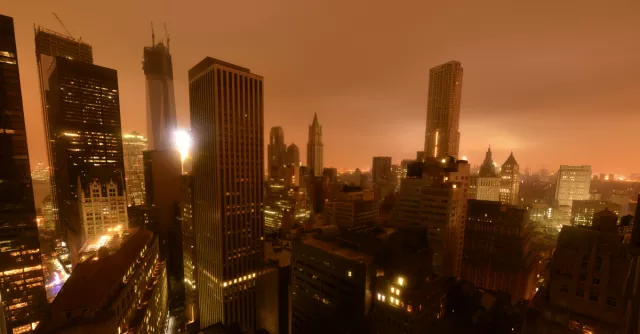 Whether it's hurricane season or winter storms, power outages can occur at any time. The impact on businesses is not measured in hours or days but in financial losses.
Although the exact amount may vary by industry, the Department of Energy estimates $150 billion is lost annually due to power outages. Agility Recovery builds solutions to help mitigate risks, understand challenges, and prepare for power outages.
Growing Risk of Power Outages
Power outages due to property damages resulting from environmental exposures are happening more often and lasting longer, with unprecedented effects on business operations. 70% of Agility Recovery customers' business interruptions involve a power outage. 
Historically, power outages fall within three possible categories: brownout, blackout, and permanent fault. A brownout occurs when the voltage drops and lights dim, but damages to electrical equipment due to malfunction may become inoperable at a lower voltage. A blackout occurs when there is a complete loss of power in an area for any time. These are the most severe type of outages as they often affect a large area and are caused by structural damage to electrical facilities. A permanent fault occurs when there is a significant loss of power, such as a fault on a power line, but once the fault is fixed, power is immediately restored.
While unplanned power outage causes might include animals, equipment failure, or power surge spikes, weather-related outages between 2000 and 2021 accounted for 83% of outages with deficits between $20 million and $55 billion annually. Worsening weather conditions due to the climate crisis increases the demand for electricity while the U.S. energy infrastructure remains outdated and vulnerable. 
Investments into renewable forms of energy are in the works, but cannot keep up with the growing demand to produce consistent energy all the time and anticipate the needs of the future. Oil shortages remain low despite the increased demand and accompanying high prices. As these risks continue to grow, they can leave your company vulnerable without a plan to address prolonged power loss.
Challenges and Considerations
Power outages create unique risks to operations in today's new normal. Many businesses have variations of remote, in-office, and hybrid models for working. The desire for continuous data protection to keep systems and apps available and operational during times of crisis poses a unique threat alone without accounting for a hybrid workforce during an outage. 
Public safety power shutoff (PSPS) has previously been used to employ rolling blackouts to limit power outage risk as a mitigation technique. Still, the consequences of the operational costs are unknown. Cyberattacks and other electrical grid failures indicate that vulnerability continues to be of significant concern. Training workers on proper protocols for operations after an outage is one way to mitigate risks, but preparing an actionable solution is a better response. 
It's also critical to keep in mind that DIY backup power can often be costly and ineffective. In part due to supply chain shortages, equipment may not be available when you need it most (particularly during a regional event affecting many businesses and residents) unless you have assured access with a company like Agility.
How to Prepare and Respond
The best mitigation strategy to respond to power outages is thoughtful preparation. Business continuity and disaster recovery planning with Agility Recovery help prepare your company to react if a disaster occurs. 
Begin with creating a committee to identify potential risks and their impact on business operations. Implement best practices such as emergency response training, cloud-based communications, decentralized backup power supply, strong relationships with vendors, and documentation processes to help mitigate risks. Update facilities and devices to include improvements such as smart grid technology, uninterruptible power supply devices, backup generators, emergency fuel, and microgrids. 
Having a backup power solution like Agility Recovery ensures that you have a plan in place and prepares you to return to work as quickly as possible.