The Basics of a Business Impact Analysis (BIA)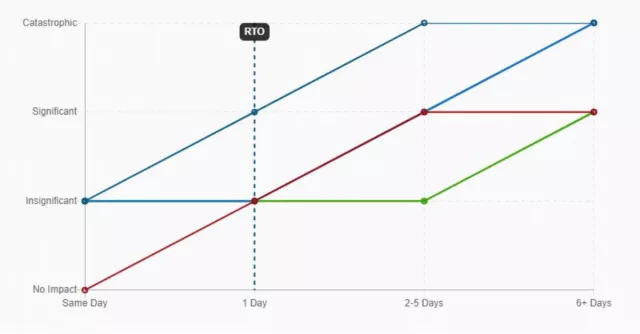 A BIA (business impact analysis) is essential in every organization. Often, companies don't allocate enough time or resources to identify risk factors properly – and instead dive straight into creating a recovery strategy. Below will help you learn more about what a BIA involves and how to conduct one.
Defining Business Impact Analysis
The BIA is a framework used to analyze the consequences of disruptions and how they impact your business. The analysis considers potential loss scenarios, the timing of disturbances, and the results affecting crucial products and services.
A risk assessment also examines the processes or activities supporting these disruptions. As a result of a BIA, organizations can plan recovery strategies alongside investments in prevention and mitigation strategies.
For instance, 68.5% of organizations fell victim to ransomware attacks in 2021. If your organization were to, unfortunately, be part of a similar statistic in the future, performing a BIA now could be the foundation for creating a business continuity plan that could help you prevent or at least mitigate these cybersecurity threats.
The Benefits of a BIA
A BIA is your starting point for your BCP (business continuity plan). It acts as a checklist to help you prepare your annual activities and can be beneficial in the following ways:
Recovery process: Your BCP should include the procedures or highest-impact assets for all the functions listed in your BIA. These prioritizations will provide transparency on where you can improve the BCP.
Organizes recovery: In a recovery situation, it's crucial to have a disaster plan that defines the highest prioritized tasks. A BIA accomplishes this for you. You can use it to rank each priority and procure an "order of recovery" list within your BCP.
Prioritizes BCP testing:  Your BIA will prioritize the areas you'll be testing in your BCP. For instance, you may need to test critical assets annually and high-priority assets every 18 months.
Measures BCP testing effectiveness: A BIA provides sufficient measures to evaluate the BCP testing effectiveness. You can compare testing recovery times to the maximum tolerable downtime (MTD). If recovery time takes longer than the MTD, you can reevaluate and make improvements.
Provides a rational approach to the backup rotation: Helps you to understand whether your backups achieve the desired results of your recovery point objective. Your IT staff can use this information to set backup schedules and rotations.
How to Conduct a Business Impact Analysis
A BIA ensures your organization can survive if a disaster or crisis occurs. Once you complete a BIA, you'll learn the following:
Critical business functions
The impact of an interruption to those functions
How long your business will thrive without performing the activities
Knowing how long your business will survive, you can define an MAO (maximum acceptable outage) period for every function. An MAO is the amount of time you have from when a disaster occurs to the time your business function must be operational to avoid financial loss.
To learn how to conduct a BIA, follow the steps below.
1. Identify the Scope of the Business Impact Analysis
Small to medium-sized businesses can involve all business functions when conducting a BIA. After identifying the processes you'll cover, you can meet with individuals you need to interview for the assessment.
These individuals are people who do hands-on work and are informed of the processes and vulnerabilities. One person you should make sure to include is someone from your IT department. Even when someone knows how to use the software, they may not know how the back end functions.
Once you've gathered all the critical business continuity information, you'll create a timeline for conducting your BIA. Doing this will help you stay on track and complete the following two steps.
2. Schedule Business Impact Analysis Interviews
After you've identified the scope of departments and activities, the next step is to schedule a meeting with each department's leadership team. Establish the value of conducting a BIA so they understand the purpose and importance of one.
Your management team may not realize the investment into the BIA process. Therefore, knowing the value will allow your team to have all the information upfront.
3. Execute BIA Interviews
The purpose of these interviews is to determine the activities each department performs. According to Business2Community, scheduled interviews take approximately 2-2.5 hours to conduct.
Furthermore, these activities should support the in-scope products and services. For each activity, gathering the steps necessary to complete the function, peak operation times, downtime, and dependencies required to perform one is essential. Consider documenting the following dependencies:
Applications
Facilities
Equipment
Personnel
Other interdependencies
For each dependency, you'll need a description of their use, manual workarounds, and recovery time. Additionally, you should conduct a risk assessment by assigning the value for the likelihood of loss or the impact for every dependency.
Once you've collected your data, you can multiply your numbers to provide a risk rating. You can value each rating from 1 to 10 during the process.
Additionally, it helps to understand if any departments have experienced a disruption in the past. Knowing this information will merit stronger planning.
4. Document and Approve Each Department BIA Report
Upon completing each department meeting, you'll have a documented report showing the results. Using business continuity software will increase the efficiency of the process. It can automate the analysis for you and the functionality for further updates.
These reports should've captured all pertinent information and recommendations, such as recovery time objectives.
Once you've drafted the report, you'll distribute it to your staff and meet with participants to review it. During the meeting, you can make necessary changes and approve the narrative. Each department report will be essential to establish company-wide business continuity requirements for management to review and endorse.
5. Complete the BIA Summary
After each department completes its reports, you can finalize the BIA summary for management to review and approve. The purpose of this is to provide an overview of the key activities, requirements, and identified risks.
Additionally, the report allows you to make risk treatment recommendations. For instance, some applications may need to be restored within 24 hours after a disaster – depending on the BIA you've conducted.
After coordinating each department's BIA conclusions, you can present your findings to leadership. During your presentation, focus on the following:
Revisit the products and services identified in the risk assessment
Verify the established recovery times
Present the key risks and recommendations for addressing them
It's important to prioritize these recommendations for leadership by focusing on accomplishing the correct level of resilience and the strategies to address the loss of resources.
Use Your BIA for Business Continuity Success
While a BIA often feels like you're ticking boxes, it can provide a ton of value for your organization. Going through this exercise with your leadership team will help align everyone on what's important to your business.
Remember that it's essential to make time for your business impact analysis. Taking action will provide you with better outcomes and help you stay on top of everything. Reach out to Agility today to get started.
---
Zac Amos is the Features Editor and a writer at ReHack, where he loves digging into business tech, cybersecurity, and anything else technology-related. You can find more of his work on Twitter or LinkedIn.