Top 4 Takeaways: Making Operational Resilience a Competitive Advantage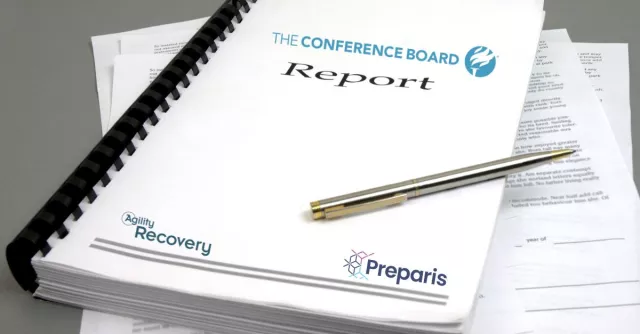 Agility Recovery, Preparis, and The Conference Board recently concluded a months-long study analyzing data from 147 business continuity professionals, 85 executives, and professionals from 56 firms.

This study was conducted to highlight the often-underappreciated importance of operational resilience programs. Many organizations view their operational resilience programs as an added expense or a line item in their budgets. However, having a strong business continuity program could mean the difference between successfully navigating a crisis or crumbling in the face of it. It's much better to be proactive instead of reactive and have a sound and well-structured plan in place. Below are four major takeaways from The Conference Board's report.
1. What is Operational Resilience?
Operational resilience is the ability of an organization to prepare for, respond to, and recover from interruptions that affect its ability to deliver products and services. This includes physical and human resources, policies, and activities. Operational resilience ideally includes both strategic and financial resilience. So, what does this mean?
In theory, operational resilience should be integrated into each stage of an organization's operations and cover the entire life cycle of preparing for and responding to disruptions. According to the ISO 22301 Business Continuity Management Systems (BCMS) standard, a comprehensive program should include risk assessment and management, scenario planning, crisis management, business continuity, and recovery. In practice, however, operational resilience programs tend to focus on the crisis stage and do not always cover areas such as physical assets, technology, and employee health and safety. A survey of 147 professionals found that these areas are often managed by other parts of the organization, where different departments may not be aware of the appropriate response. 
2. Don't Overlook the Human Element
Operational resilience programs typically focus on the physical assets affecting an organization. This includes buildings and equipment but also consists of an organization's policies, procedures, and playbooks. It's critical not to leave out the human dynamics in a crisis situation. This involves ensuring that employees comprehend and internalize the concept of resilience, their individual and collective roles in promoting it, and their own personal resilience. Additionally, it is essential to identify in advance an executive who can lead the response effort and provide the appropriate employees with crisis management training. 
Organizations can benefit from their insights and creativity by including the workforce in crisis management and business continuity planning. The organization, supply chain, and external parties should establish clear communication channels. Finally, learning from a crisis is also crucial to operational resilience, so taking time to reflect on lessons learned, documenting conclusions, and implementing any changes is essential.
3. Budgets for Resilience Programs are Increasing
It may come as no surprise that 90% of resilience professionals see threats increasing over the next three years. Cyberattacks, economic uncertainty, supply chain issues, and weather are at the top of this list when it comes to what resilience professionals are preparing for. These threats are just the tip of the iceberg. While threats like weather and supply chain disruptions may be foreseeable, other threats like cyberattacks often strike without warning. Even lessons learned from Covid-19 illustrated the importance of preparing for the "what if" when it comes to crisis management. It's safe to say that most resilience programs probably emphasize pandemics more, even though the likelihood of a resurgence may be further down the list of immediate concerns. 
The survey results leave no room for doubt, highlighting the critical role of a robust risk identification and assessment process within an overarching operational resilience plan.
At the roundtable discussions, concerns arose over the limitations of current enterprise risk assessments. Companies often gather risk information in fragments, restricting the identification of certain risks and their interconnected nature. Moreover, hesitancy in reporting risks to the C-suite without adequate mitigation plans stifles progress, even though these risks demand immediate attention.
The statistics, however, reveal a significant gap in readiness protocols. Only 16% of companies describe their operational resilience programs as mature, adhering to industry best practices and standards. Interestingly, resilience professionals stand apart from CEOs, expressing greater confidence in their organization's ability to weather shocks. With 55% prepared for most events and another 42% asserting their preparedness for at least some disruptions, it's clear that operational resilience is gaining traction. With these numbers hovering around 50%, it's evident that there's still a long way to go. As businesses gear up for the future, data-backed insights provide the compass to navigate interconnected risks and embrace operational resilience as a competitive advantage rather than a line item in their budgets.
4. The Impact of Remote & Hybrid Work on Resilience Programs
Data highlights some potential pitfalls of remote work: Diminished employee engagement, reduced collaboration, and increased burnout can hinder a company's responsiveness to disruptions. Resilience professionals are particularly concerned about the physical and technological implications, as employees scattered across numerous locations face varying risks like weather events or infrastructure issues. Organizations must strategically respond to localized disruptions, potentially shifting employees to the office or identifying backup work locations. Decisions regarding office space closure or downsizing should be weighed against the need for operational resilience. The speed at which a business responds to a disruption can mean the difference between several thousand or even millions of dollars. 
Conclusion
Overall, this study conducted by Agility Recovery, Preparis, and The Conference Board illuminated the importance of developing a strong operational resilience program. This data analysis from over 147 business continuity professionals, 85 executives, and professionals from 56 firms clearly demonstrated that businesses must pay attention to the importance of resilience programs in today's increasingly interconnected and complex world. To successfully navigate a crisis, organizations must proactively develop and maintain a comprehensive operational resilience program that accounts for both physical and human elements. By investing in resilience now, businesses will be better equipped to handle the unexpected and protect their bottom line in the future. Click the link to download the full report.