Addressing Wildfire Risk for an Arizona City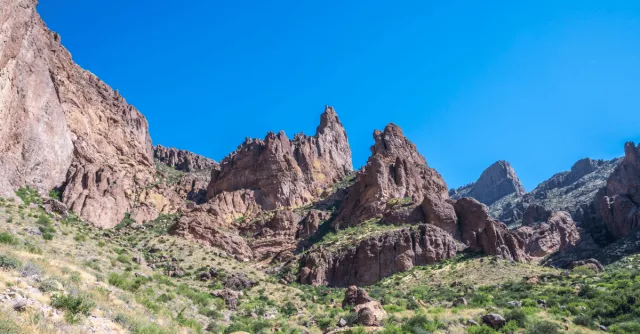 The City of Apache Junction was established in 1978 and currently serves a community of approximately 40,000 residents as the eastern gateway into the Phoenix, Arizona, metropolitan area. The city retains a southwestern territorial feel characterized as a horse community surrounded by open space and bordered by the natural splendor of the Goldfield and Superstition Mountains, which includes the Tonto National Forest. The city encompasses more than 40 square miles and often welcomes more than 40,000 additional residents who enjoy the many outdoor activities during the mild winter months.
Problem
The City of Apache Junction faces wildfire threats from the adjacent open spaces and national forest lands. This threat is often coupled with the possibility of the electrical grid failing due to wildfires or electrical demand loads in the hot summer months.
The city experienced a power grid failure several years back that made it difficult to maintain government services and exacerbated the needs of residents who no longer had air conditioning.
Solution
The City of Apache Junction selected Agility as its disaster recovery provider thanks to Agility's proactive member representative, who immediately helped identify and offer solutions that met the city's needs and budget.
Results
Agility's offerings made it easier for the City of Apache Junction to obtain organizational buy-in and secure additional funding for business continuity planning objectives and goals. It is now confident in its ability to stay operational in case of a future interruption, backed up with the knowledge that Agility will respond quickly and efficiently.