DCH Credit Union: Restoring Power and Connectivity After a Disaster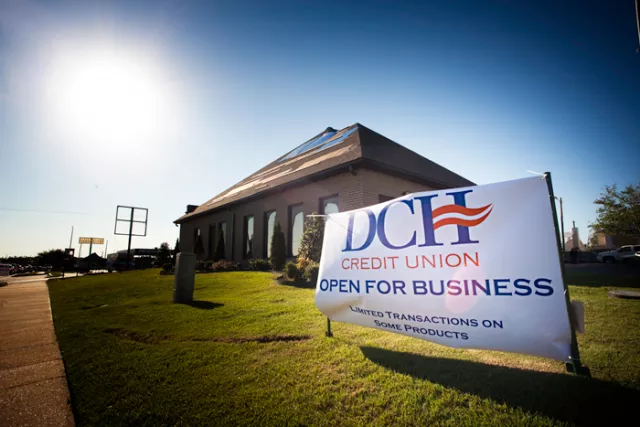 DCH Credit Union
DCH Credit Union has been a part of Alabama's community fabric since 1955. Created to serve Druid City Hospital employees and their families, their network steadily expanded to serve everyone in Tuscaloosa, Bibb, Fayette, Greene, Hale, Lamar, Pickens and Sumter counties. As DCH grew, the number of individuals who counted on them for banking needs increased dramatically, and for many of their customers, DCH was the only option they had. 
Problem
Over a two-day period, severe weather pummeled the southeastern U.S. and wreaked havoc on multiple states' infrastructure. During these storms, several catastrophic tornadoes unleashed turbulent winds that destroyed portions of Mississippi and Alabama. Basic services were cut off for thousands of homes and businesses, and people everywhere were looking for ways to recover. When the power was lost in DCH's office, employees originally tried using their own generators to keep the office operational. Still, the amount of power they needed was far greater than what they could provide independently. When individuals and businesses are all hit at the same time, and everyone is looking for the same resources, it can be nearly impossible to acquire the necessary supplies. 
Solution
Agility proactively reached out to customers in the affected region, which included DCH Credit Union. Kevin Maguire, DCH's CEO, requested Agility's assistance in obtaining a generator for the office and identified a satellite link and phone communications as serious areas of need. The credit union was under pressure to provide payroll to thousands of DCH Hospital employees, and after devastating tornadoes, fulfilling that commitment was essential. 
Results
The day after the tornadoes struck, the generator was delivered to DCH. Once their power was recovered, Agility personnel coordinated the satellite link to restore online banking and connectivity to DCH's core processor, and telephone communications were brought back online in a limited capacity. This allowed the branch to open the following Monday for reduced services. Because Agility minimized DCH's downtime and helped them regain business continuity, credit union employees were able to visit Druid City Hospital to hand out nearly $100,000 in cash to make payroll, and they were even able to process dozens of emergency disaster loans.